From a North Border Farm...
...to the Governors Mansion. Online Exhibit of Former North Dakota Governor Walter Welford on the North Dakota Historical Society webpages. Welford's farm was located between Neche and Pembina.
ND State Historical Society Online Exhibit Link
As lieutenant governor, Welford became governor after Thomas H. Moodie was disqualified. Welford was a staunch supporter of the Nonpartisan League (NPL), a farmers' political group. During Welford's administration the state was caught in the grip of the Great Depression. The 1936 crop yield was disastrously low because of drought. Welford met with President Franklin Roosevelt and obtained federal aid for drought-stricken farmers.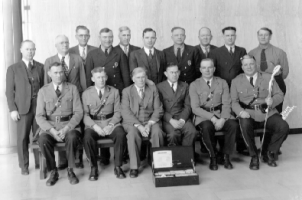 Governor Welford and members of the Highway Patrol at the
state capitol.
In 1936, Welford decided to run for office again. He beat former Governor William Langer for the Republican gubernatorial nomination, but Langer refused to drop out, and entered the general election as an independent. Welford lost the three-way governor's election to Langer. (The third-place candidate was Democrat John Moses, who became North Dakota's twenty-second governor, following Langer's second term.) Walter Welford became governor when Thomas H. Moodie was removed from office shortly after being elected. Welford served during a time of drought and depression